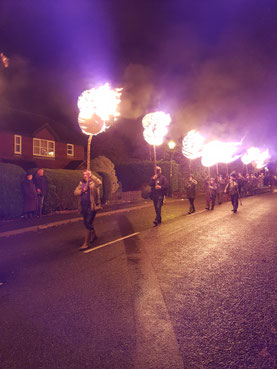 In East Hoathly, our bonfire night is centred around remembrance. Amidst the carnival atmosphere of our bonfire procession and before the fireworks there is a pause. Villagers and visitors gather in the centre of East Hoathly for an Act of Remembrance. Words of remembrance are spoken and then, as a complete contrast to the noise of the evening, there is a minute's silence. 
Last night was particularly poignant. As we stood in the pouring rain I couldn't help but think of those soldiers who one hundred years ago would have spent days at a time knee deep in mud as well as in the pouring rain having experienced horrors of conflict that we cannot even imagine.
This moment of reflection was followed by the final procession before the fireworks. In amongst the beautiful colourful display were, I am sure by design, some fireworks that were more like shell explosions. They cracked aggressively and my thoughts were led to our current service men, women and veterans, some of whom must find bonfire night very difficult due to PTSD and Anxiety related disorders. These disorders occur when there is a change to the way the brain is processing. The brain can get stuck in a fight or flight cycle, it is not a conscious choice, and recent studies of neuroplasticity are helping us to understand how this is happening and how we can change it for the better.
What is the relevance to Osteopathy?  Well, we deal with pain and the latest pain research shows that the same mechanism that is involved in the fight flight response of anxiety, is also affecting the way the brain perceives pain in Chronic Pain conditions and this is partly why so many chronic pain sufferers also experience anxiety and overwhelm. 
Everybody, and every BODY,  perceives trauma differently and whilst you may have never been in the trenches, your brain doesn't decipher between mild or strong trauma - to the brain it is just trauma. Some people are genetically predisposed to being less affected by trauma and some more. The trauma that causes chronic pain in adulthood can result from emotional or physical incidents that have happened at any point in life, even in childhood.  In addition to osteopathic treatment, helping you to identify, acknowledge and understand what events have triggered your fight/flight response have been proven to help calm the body's sense of overwhelm which in turn reduces your chronic pain symptoms. 
If you would like to know more please contact pippa@osteopathyforall.co.uk or you can read more here...
(Thank you to Richard Cossens for the image)