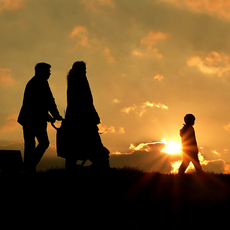 For many people the thought of exercising fills them with dread and so by this point in the year the 'going to the gym' resolution has got up and gone!
However, the thought of MOVING is less daunting so maybe your new, New Year's Resolution, could be to try moving instead of exercising.
Moving our bodies will benefit so much more than just our muscles and joints. It helps our heart and circulation, our digestion and the latest research shows that it can even promote the formation of new neurons in our brain that can help our memory, mood and emotional well-being. Moving in childhood and adolescence is essential for bone density in adult life.
There is a level of activity to suit nearly everyone but if you are unsure about taking up moving then check with your osteopath or doctor before starting.
So how might you introduce moving into your day? Well, the best way to sustain a new habit is to find an activity that you enjoy... anything from Pilates to mud runs but before you panic, not all activity requires you to leave the house. You can dance to the radio each time you are waiting for the kettle to boil or you can do squats whilst you brush your teeth or march on the spot during the ad break but if moving is a real challenge you can still do it whilst sitting down. There are some links below for exercises that you can do in your favourite armchair.
If you are able to get out and about then there is walking, cycling and gardening. There is an added social benefit of doing an activity with others and in East Hoathly (and just beyond) there are many opportunities to do this: at the Tennis Club, at the Community plot at the allotments, at Pilates classes in the village hall or join the Preservation Society on their monthly walk. There are also a wide variety of classes at the East Sussex National's Horsted Health Club so find what suits you and keep moving. If pain,discomfort or stiffness is preventing you moving then you may wish to seek some physical therapy. An osteopath will be able to assess, treat and advise you on the best way to get active.
Chair exercises  
https://www.nhs.uk/live-well/exercise/sitting-exercises/
https://www.saga.co.uk/magazine/health-wellbeing/exercise-fitness/nine-easy-chair-exercises