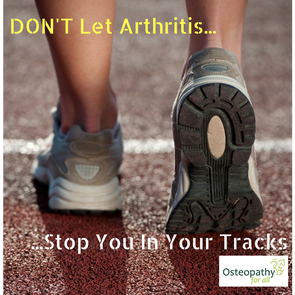 It is World Arthritis Day.
The slogan this year is
'Don't Delay, Connect Today'.
Early diagnosis is important for the management of Rheumatoid and Musculoskeletal diseases (RMDs) as it can help to prevent the progression of some forms of these disorders.
Osteopaths are really well placed to be able to diagnose and support patients with RMDs using gentle osteopathic treatment as well as lifestyle and exercise advice. 
Knowing the symptoms and talking to your Osteopath can help you get the right treatment and management of your condition. We can also refer you to the correct specialist if necessary.
Symptoms include:
Inflammation of the joints
Persistent muscle pain
Tenderness
Extreme fatigue, lack of energy and weakness
Stiffness and restricted mobility
Gut symptoms (bloating, IBS)
Invisible symptoms including anxiety and depression.
Very often improving the mobility of the joints and releasing the tension in the soft tissues, can ease the symptoms and slow the speed of the progression. You are, of course, an individual so we cannot predict exactly how you will respond until after being introduced to your tissues. We are blessed with having the time to spend assessing you and formulating an individual treatment plan so if you feel you have any of these symptoms or have already been diagnosed with arthritis and would like our help, then please do contact us for more information. 
---

---