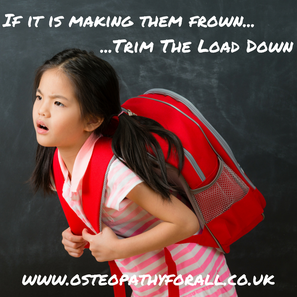 It is Back Care Awareness Week in the UK this week and the focus is on taking care of our children's backs with a view to help prevent them having ongoing back problems in adulthood.
Children and young people, especially teenagers, live in the moment and they are rarely able to see what the the long term effects, of their current actions, will be in the future. To be honest, us adults are not always that good at it either!
We have to take responsibility for ensuring good spinal health in our children. 1 in 4 young people or children are suffering with regular or daily back pain. Heavy backpacks are contributing to pain and imbalances in children's spines and sitting is not only causing poor posture and discomfort but the lack of movement can affect bone density in later life. 
It is time to act NOW. 
All our Osteopaths have training in paediatric osteopathy and are well placed to help treat any pain or discomfort your child might be experiencing as well as using gentle osteopathic techniques to help to correct any postural problems.  We are able to offer advice on exercises and postural advice and Kinesio Taping if it is appropriate.
Children's bodies are much more pliable than those of an adult so nipping any problems or pain in the bud is much more effective and prevents the pattern becoming ingrained.  They will probably not thank you now, but maybe in their 30's! 
On our website there are links to some exercises for boys and girls to do to help look after theirs backs www.osteopathyforall.co.uk/children-s-back-care-advice/