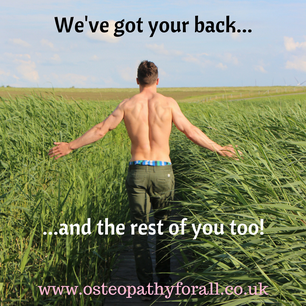 We have always got your back, but we can also support the rest of you too.
Osteopaths are trained to treat all parts of the body and are also trained in being able to give advice on maintaining your general well-being. 
At Osteopathy For All all our Osteopaths can treat your back, your knees, your shoulders and your neck etc, I won't go on but you get the picture. We are all also trained to treat children from birth onward.  However, each of us also has an area of specialist interest. 
Pippa has a special interest in treating trauma within the body. Whether this be physical or psychological in origin. Once the body is traumatised it can manifest as tension within the muscles and the other soft tissues of the body which in turn can cause pain or dysfunction (that feeling that you are just a bit off). The importance of the MindBody link has become significantly more recognised across the medical world in the last couple of years.
Louise, as well as treating the practice's equine patients, is fabulous at creating exercise protocols for you to aid you recovery between treatments. Regular exercises accompanied by treatment and lifestyle advice will improve your well being as well as speed up pain reduction. The latest NICE guidelines recommend physical therapy, such as Osteopathy, and exercise as more effective than painkillers for back pain.
Becca has a special interest in the front of the body and its relationship to the back. Visceral Osteopathy encompasses the treatment of the organs as well as the musculoskeletal system. Our organs, such as the gut, are made up of smooth muscle and are supported by our bodies framework by an amazing tissue called fascia. Fascia is a little bit like 'clingfilm'. Ask about it when you are next in, if you are interested.  By influencing the tension in the front of the body it can have a marked effect on the back of the body. 
The beauty of the Osteopathic approach to the body is that there is no specific recipe. We treat each patient as an individual and work with our knowledge and your body's requirements to set you on a pain-free path to well-being.