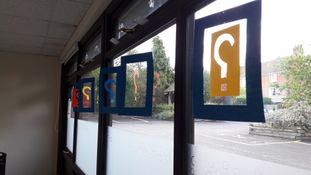 Why do we have question marks in our window?
Well we are sponsoring and supporting the
Nearly Secret Art Sale
in East Hoathly on 16th and 17th September 2017. It will be a fabulous event with lots of great art but you won't know who each piece is by until after the piece has been successfully bid on and won, as the artists will be signing them on the back. 
There will be a list of contributors which will include 2 of our Osteopaths. Both Pippa and our new Osteopath, Becca, will be exhibiting. So why not come along and enjoy the pop up gallery, have a drink or a cuppa, meet our Osteopaths and bid on some really great art.
So back to the question marks?
Do you have any questions about Osteopathy? Are you wondering whether it wold be good for you or family? What conditions can it treat? Is it good for babies? Will it help my horse's performance? How does it work? How long will it take?...
If you have any questions then please contact us so we can help answer them for you.