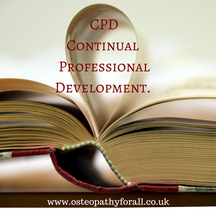 All Osteopaths have to complete 30 hours of CPD a year.
CPD stands for Continuing Professional Development.
It refers to the process of tracking and documenting the skills, knowledge and experience that you gain both formally and informally as you work, beyond your initial training. It is a record of what you experience learn and then apply.
Osteopaths have to complete a minimum of 15 hours of learning with others within the 30 hours and we have to cover all areas of our professional standards. Communication and Patient Partnership, Knowledge, Skills and Performance, Safety and Quality in Practice, Professionalism. We have to complete this to remain registered with the General Osteopathic Council.
What this means to you?  - Complete Patient Dedication
It means that we are dedicated to providing you with the best possible care that we can. It means we are up to date in our knowledge of all aspects of communication and safe-guarding of our patients. We have information on the latest research and development into the best way to treat the conditions you are struggling with. 
I am off on a course this weekend in Bio-dynamic Osteopathy. It is sure to be very inspiring and I look forward to sharing all my new and revisited knowledge with you next week and beyond. Pippa